Justin Tchatchoua
Camerún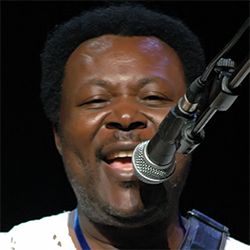 Biography
TCHATCHOUA JUSTIN from Cameroon, is one of the most innovative African musicians. Tchatchoua possesses an innate talent for music, which he cultivated from childhood, in a family of musicians. His father was a virtuoso of the balafón and instilled in his son the love for music, by teaching him African rhythms secrets and a wide range of musical cadences. His life is devoted entirely to music. Their single "Love me the way I do", produced by Rogers All Stars in 1982 sold over 900,000 copies in Nigeria. Culminating his African dream, he arrived in Spain in 1983 with his musical talent and his unmistakable and unique style. He has recorded several albums and CDs, as well as offering concerts throughout Spain and Europe. With E.M.I. Odeon and the single "Oh Kokoriko" was number one on the lists in Cadena Dial in front of established and renowned artists. His latest album"LALI, "the African dream, was candidate in the 13th edition of 2009 as best album of fusion Word music and one of the best productions. His album, Lali - the African dream - was presented in the Cuba disco Festival in La Habana.
His effort in the development and integration of intercultural coexistence, through his work to promote, preserve and to access the ethnic instruments for their major contributions in music, places him as one of the African artists most valued.
PERFORMANCES IN UNIVERSITIES, COLLEGES AND MANY OTHER CULTURAL EVENTS IN SPAIN HAS PLACED TCHATCHOUA JUSTIN IN THE (LIBRO INSTRUMENTO DE LA NUEVA DIPLOMACIA PUBLICA ESPAÑOL) MADRID 8-11 OF SEPTEMBER 2008. His constancy in this field has been commented by different media of communication such as:
EL PAIS: "POP AFRICANO". C.GALILEA 21- ABRIL 2002
LA RAZON: "TCHATCHOUA HECHO EN ESPAÑA" .J. DE CAMBRA 2003
EFE EME: "AFRICANO POR LA GRAN VIA" J. M. GOMEZ 2004
WOLRD MUSIC. "EL AUTENTICO MESTIZAJE" ANTONIO A GUIRRE 2004
BILLBOARD STARS "ROCK DE CASBAH" HOWELL LLEWELLYN 2008
BILLBOARD "SGAE LAUNCHES WORLD MUSIC LABEL" 2008
NEW YORK TIMES "THE WEST AFRICAN BORN TCHATCHOUA JUSTIN, WORMS EVERY ONE UP WITH HIS AFRO JAZZ GROUP" 2008
ABC, LA OPINION, CANARIA MUSIC. ETC...
Also Tchatchoua Justin has been interviewed in magazines such as:
NOVEDADES Nº93 JUNIO Nª94 JULIO
RITMOS DEL MUNDO; Nº8 Y Nº 9 2009
WORLD MUSIC; Nº32
EFE EME; Nª 30
ANDALUCIA; SUPLEMENTO, GO TV; "LOS SONIDOS DE BIODIVERSIDAD" JUNIO 2006
CREA; 2008
METROPOLI; 5/08/2004
TIEMPO; "REGGAE QUE ES Y DE DONDE VIENE" 2007
COSMOPOLITAN; MESTIZAJE 1998
DIARIO DE VARANO;
CAMBIO 16, ETC...
FESTIVALS
GALDAMES FOLK: GALDAMES- 2011
AFRICA VIVE: MADRID-2009 Y 2010
PAN AERIQUE: ALGERIA, 2009
ENSUEÑO DEL FOLK: PAIS VASCO-2009
TERRITORIO: SEVILLA-2009
KULTURA IRURTZUNEN MUSIKA; 2007
INTERCULTURALES
DAIMIEL: 2006
LAS NOCHE DE SAN FRANCISCO "MÚSICA TRADICIONAL": 2005
FESTIVAL DE JAZZ MALAGA-2003
ETNO SUR: 2002
FESTIVAL DE JAZZ MALAGA 2004
UNIVERSIDAD DE SALAMANCA-2010
UNIVERSIDAD DE HUELVA-2009
UNIVERSIDAD DE SEVILLA 2003
UNIVERSIDAD DE MÁLAGA-2003
ETC...
Important entities that have collaborated with Tchatchoua Justin are:
CAJA CANTABRIA, CAJA ASTUR, CAJA GENERAL DE AHORROS DE GRANADA, RED DE TEATRO DE CASTILLA – LA MANCHA, CASA AFRICA DE GRAN CANARIAS, ISCHIA FILM FESTIVEL – ITALY, CAJA NAVARA, ETC...
Tchatchoua Justin collaborated with Rita Marley. Enrique Urquijo, Papa Wemba, the Waylers, Tito Duarte, Tala André Marie, Jacque Djeyim.
Discography
1982-Rogers all star "Love me the way I do" Nigeria
1994-EMI Odeon "Oh Kokoriko" Spain
2000-Nube Negra "Wayo Man" Spain
2002-Antar Production "Vuela" Spain
2009-Sello Autor "Lali El Sueño Africano" Spain



He is actually the president of "KOLANUTS" ASSOCIATION FOR THE PROMOTION AND DISSEMINATION OF AFRICAN CULTURE.